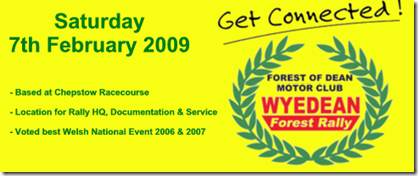 Wyedean forest rally is always a popular event, taking place in the heart of the forest with a good mixture of cars. Be sure to check out the forum for information of members attending.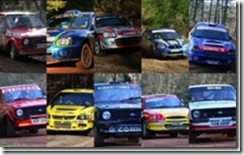 The Get Connected! Wyedean Forest Rally is a round of the following 2009 Championships:
SILVERSTONE TYRES GOLD STAR® Rally Championship for all vehicles over 1400cc.
SILVERSTONE TYRES SILVER STAR® Rally Championship for all 2 wheel drive cars over 1400cc.
Millers Oils BTRDA 1400 Championship for cars up to 1400cc, running in advance of the main field with 1.4L, 1.4C and 1.4S classes.
New BTRDA Rally First Challenge with lower costs.
MG ZR Rally Challenge
Holpak Team Challenge
Mini Golden Jubilee Challenge     
MSA English Rally Championship
RallyingUK.com MSA Welsh National Rally Championship
ASWMC MUNDEN'S MINIBUSES Loose Surface Rally Championship
Cotswold Motor Sport Group Stage Rally Championship in association with B.P. Motor Bodybuilders & Engineers